DEAR FRIENDS,
​​While the previous year has had an unprecedented impact on our lives and the cultural industry has faced many limitations, the Katarzyna Kozyra Foundation has managed to persevere and continue our work in the best way we could. Many of our activities were moved to the digital sphere and despite delays and obstructions to our real life events and exhibitions we managed to organise several important shows. However while the coronavirus continues to threaten us, we cannot fail to observe the ongoing socio-political injustice and limitations to freedom which we are still experiencing in our region. While women in Poland continue to struggle in the name of their basic reproductive rights, our eastern neighbors are facing the atrocities of an overbearing regime, abuse of basic human rights while others are leading their daily lives alongside an ongoing armed conflict. This year we set out to acknowledge the brave role that female artists are taking on to take voice in these contexts. Women who are not just observers but active commentators and game changers.
This year the FRIENDS collection is dedicated to them. The 2021 FRIENDS collection which is available to the supporters of the Katarzyna Kozyra Foundation has been assembled thanks to the generous collaboration of the best female artists from the Ukraine, Belarus and Poland. By donating their works these remarkable women not only help us to continue our work but also shed some light on today's times, in the social and political realities we function in. We invite you to join us in our expression of solidarity with our neighbours and to donate in order to support our continued efforts to work in the name of empowering women in the arts field. By supporting our foundation and joining the circle of FRIENDS you play an active role in helping us implement the research projects, exhibitions and book publications we are working on.
In the following pages we are pleased to present the FRIENDS, 2021 collection composed of limited editions of photographic works of 15 renowned artists which are available exclusively to the supporters of our Foundation. We hope that the presented works will engage and move you and as much as we enjoyed working on this year's edition.
We wish to thank you for your continued attention and support.
Katarzyna Kozyra
President of KKF
Marek Zaliwski
President of FRIENDS,
President of the Supervisory Board, KKF
FRIENDS, receive:
The KKF newsletter listing the most up to date information about events dedicated to women in the field of art and culture organized by KKF and its international partner organizations as well as our findings regarding the situation of women artists on the artscene and the art market.
Exclusive invitations to private views of the foundations exhibition projects as well as Katarzyna Kozyra's shows in galleries and art institutions around the world.

Personal invitations to join closed seminar sessions in Warsaw with the participation of outstanding artists and prominent critics, philosophers and writers.

Copies of selected books and publications released by the Katarzyna Kozyra Foundation and discounts on other KKF products.

Personal invitations to events organized by the Katarzyna Kozyra Foundation. Invitations to special FRIENDS previews and meetings.

As a token for an appropriate monetary donation, prints selected from the new 2021 edition of works or chosen works that are still available from the 2020 and 2019 FRIENDS Collections.
FRIENDS, support:
By joining the Katarzyna Kozyra Foundation FRIENDS program with a financial contribution, you allow the Foundation to implement a program to support women artists consisting of research projects, residencies, exhibitions, lectures and seminars. In the last year we were able to realize several projects which are important to our mission:
The "Urszula Broll. Atman Means Breath" first complete retrospective catalogue and exhibition of the artist at the Xawery Dunikowski Museum of Sculpture at Królikarnia Palace Division of the National Museum in Warsaw, which was a research project developed in the frame of the "Discovering and Rediscovering Female Artists" programme. In 2021 The exhibition travelled to the Karkonoskie Museum in Jelenia Góra and will also be shown at the BWA Gallery in Bielsko Biała, Poland.

Over the past year the Foundation has developed the international "Secondary Archive" project (secondaryarchive.org) establishing an online platform of knowledge representing three generations of female artists from Central and Eastern Europe. Having begun from the Visegrad countries, this year we are now further developing the archive to include profiles of artists from Ukraine and Belarus thanks to our partners: the Artsvit Gallery in Dnipro, Ukraine and the The Goethe Institut in Minsk with the founders of the Y Gallery from Minsk – which unfortunately has had to cease their functioning after 11 years due to the current situation in Belarus.

We published and promoted the Polish edition of the book "Why There Are Great Women Artists in Ukrainian Art" (Published by the Pinchuk Art Center, edited by Kateryna Iakovlenko) which marks one of the first attempts to tell the history of Ukrainian art through the lens of gender, covering the period from the end of the 19th century to the artistic experiments of the early 21st century.

Together with the Program Gallery and The PSW Foundation for the Promotion of Contemporary Art we organised the INDEPENDENT PARTICLES – POLISH COUNTERCULTURE (1967 – 1975) exhibition in Warsaw. Curated by Kamil Sipowicz, the exhibition presenting archival photographs documenting the cultural movement and rebellion of hippies, 

outsiders and independent artists against the communist regime of the 1960s and 1970s.

We opened Katarzyna Kozyra's "Model World" exhibition created especially for the Institute of Industrial Design. The installation consisted of several hundred objects used by the artist in her projects to date, creating a summary of symbols from Kozyra's 25 years in art.

Katrzyna Kozyra's exhibition at Concordia Design in Poznań organised together with the VOX Artis Foundation was a public space intervention spread on over 600 sqm facade of the Bałtyk highrise in the center of Poznań – an imprisoned Katarzyna Kozyra from her 2008 work "Summertale" – a woman with a gag in her mouth represents an ideal of femininity that is desired by a large part of today's society.
FREINDS, 2021 Collection:
For the 2021 collection of the FRIENDS project of the Katarzyna Kozyra Foundation 15 female artists from Poland, Belarus and Ukraine have donated their works to be produced in limited editions of 20 copies, printed in approx. A4 (210 x 297mm) on 300 x 400mm Hahnemühle paper, numbered and signed in pencil in 14 sets in Arabic numbers, to be given together as a whole series, and 6 copies each in Roman numerals, which can be selected individually. 
We sincerely thank the participating artists for their contributions which exemplify comradeship and sisterhood among women from our region which the foundation wishes to manifest and embody with every following undertaking.
FRIENDS, CATALOG 2021:
FREINDS, 2020 Collection:
For the 2020 collection of the Friends project of the Katarzyna Kozyra Foundation, 15 artists from Poland, Hungary, the Czech Republic, Romania and Slovakia have donated their works to be reproduced in editions of 20 copies, approx. A4 (210 x 297mm) printed on 300 x 400mm Hahnemühle paper, numbered and signed in pencil, 14 in Arabic numbers, to be kept together as a whole series, and 6 in Roman numerals, which can be given individually. It is a series of fantastic works made with women and for women. We thank the artists, keeping in mind that womanhood also means solidarity and quality.
FRIENDS, CATALOG 2020:
FRIENDS, CATALOG 2019:
Individual works from FRIENDS, 2019 collection still available:
Objects [Helmets], 1991: 7 pieces
Karaski in Bedclothes, 1992-2018: 3 pieces
Pyramid of Animals, 1993
Krzysztof Czerwiński II, 1995 (diptych): 6 pieces
Olympia, 1996
Bathhouse, 1997: 4 pieces
Men's Bathhouse, 1999 (quadriptych): 5 pieces
The Rite of Spring, 1999-2002 (6 works): 7 pieces
Women are waiting, 1994-1998: 9 pieces
Punishment and Crime, 2002: 8 pieces
Dance Lesson, 2001: 8 pieces
Lords of the Dance, 2002: 7 pieces
Faces, 2006: 5 pieces
Diva. Reincarnation, 2005: 6 pieces
Cheerleader, 2006
Summertale, 2008: 8 pieces
Untitled, 2018
Looking for Jesus, 2018: 5 pieces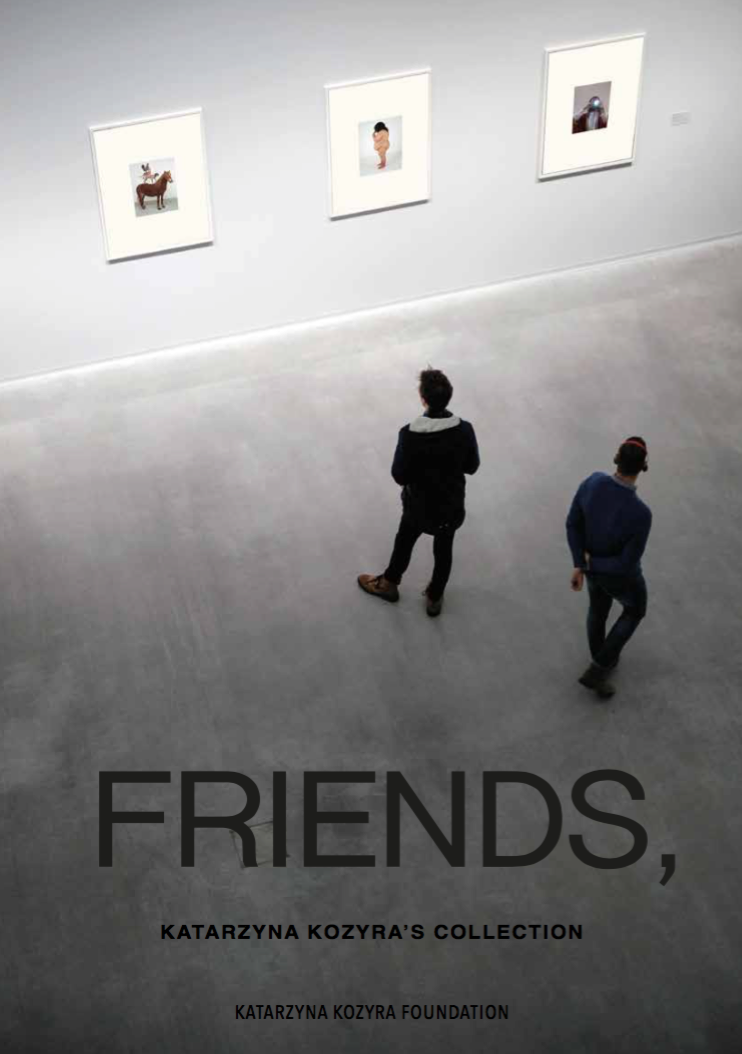 CONTACT:
Fundacja Katarzyny Kozyry
ul. Bukowa 12
02-708 Warszawa
ING Bank Śląski:
[transfer to PLN account] PL 77 1050 1025 1000 0090 9627 8172
[transfer to EUR account] PL 20 1050 1025 1000 0090 8001 1522
Please title the transfer: Katarzyna Kozyra Foundation Friends support program
ING Bank Śląski S.A.
ul. Sokolska 34 40-086 Katowice