DEAR FRIENDS,
This edition of FRIENDS brings together 13 works by 14 female artists (including 2 diptychs and 1 quadriptych) from eastern Germany who belong to different generations. Some of them already started their artistic career in the GDR, others were only allowed to start studying at an art academy after the unification of Germany. Today, two of them hold a professorship at an art academy, while the interests of others are represented by galleries. There are still some among them who are insufficiently visible in Germany to this day, which is not offset by the large lack of instruments of artistic support for female artists or mothers. It was therefore a conscious decision to choose female artists from the East without pairing them with West German female artists, also because there is still a lack of visibility, interest and understanding through knowledge of the contexts in which the works of the female artists originated, who for structural-political reasons worked under different conditions than their West German colleagues.
Giving space to this structural imbalance through more visibility is a goal of the Katarzyna Kozyra Foundation, by which I was commissioned to select female artists for the edition. It is not a final selection as there are even more artists to be researched, but a mixture of artistic positions from different generations, which pursue different ideas, approaches, artistic techniques or genres. What all the female artists represented in the edition have in common is making experiments in the struggle for an autonomous, independent, highly individual visual language – in (overdrawn) photography, video, action art, media art, collage, textile work or art in architecture. The participating artists work interdisciplinarily and between media, in the interstices of genres and techniques, and thus equally question the respective current understanding of art and image. For this reason, the focus of the edition has been extended beyond photography and action art, as women artists working especially in these fields have succeeded in gaining greater attention since 1989/1990, while others have unjustly been left behind. All of those involved in the edition share the values of solidary community among women, they were and are actors in artistic-political networks, promote the artwork of others and establish their own exhibition platforms or spaces – they are therefore partly involved with works that were created in cooperation with or through the support of women from their network showcased in this collection.
On the one hand, the intergenerational approach emphasizes the continuity of female art production in the East, of themes and working methods that the younger generations have "inherited", which are continued by them – in a different way – especially when it comes to references to the international avant-gardes. For many women artists whose work began after the end of the GDR, the need to come to terms with their own history, their own bodies, and their selves by no means ended with the year 1990. Rather, it is precisely then that an extraordinarily critical form of reflection on identity and history sets in, which this edition reflects.
Jeannette Brabenetz
Curator of FRIENDS, 2022/2023
FRIENDS, receive:
The KKF newsletter listing the most up to date information about events dedicated to women in the field of art and culture organized by KKF and its international partner organizations as well as our findings regarding the situation of women artists on the artscene and the art market.
Exclusive invitations to private views of the foundations exhibition projects as well as Katarzyna Kozyra's shows in galleries and art institutions around the world.

Personal invitations to join closed seminar sessions in Warsaw with the participation of outstanding artists and prominent critics, philosophers and writers.

Copies of selected books and publications released by the Katarzyna Kozyra Foundation and discounts on other KKF products.

Personal invitations to events organized by the Katarzyna Kozyra Foundation. Invitations to special FRIENDS previews and meetings.

As a token for an appropriate monetary donation, prints selected from the new 2021 edition of works or chosen works that are still available from the 2020 and 2019 FRIENDS Collections.
FRIENDS, support:
By joining the Katarzyna Kozyra Foundation FRIENDS program with a financial contribution, you allow the Foundation to implement a program to support women artists consisting of research projects, residencies, exhibitions, lectures and seminars. For the last few years, we were able to realize several projects which are important to our mission:
We developed the international project "Secondary Archive" (secondar- yarchive.org) creating an online platform representing three generations of artists from Central and Eastern Europe. In February 2022, just a few hours before the Russian invasion on Ukraine, the inauguration of the Ukrainian and Belarusian part of the archive took place. In October 2022, we added artists from Albania, Kosovo, Serbia and the Visegrad Group countries. Currently SA brings together over 400 artists from 9 countries.

Between 22.07.22–30.10.22 in Pristina, the Secondary Archive exhibition was held, which was included in the main program of Manifesta 14 — The European Nomadic Biennial. The works of 160 artists from Albania, Belarus, the Czech Republic, Hungary, Kosovo, Poland, Serbia, Slovakia and Ukraine were presented in the space of the National Gallery in Kosovo. The artists tak- ing part in the exhibition are part of SA's project activities. According to data from the official Biennial website, Manifesta 14 was visited by over 800,000 people during its 100 programming days. The exhibition was then shown at the Center for Cultural Decontamination in Serbia.

In February 2023, in order to commemorate the outbreak of a full-scale war in Ukraine, in cooperation with the Warsaw Observatory of Culture, we presented the Ukrainian part of the Secondary Archive exhibition in the WOC's windows.

In March 2023, we held the inauguration of the Foundation's new project – Przeciw(stawanie), a series of exhibitions by artists of the young generation, aimed at promoting the art of emerging artists. The first exhibition "We were tending to the remains" presented the works of Agata Cieślak. The project also focuses on cooperation with smaller cultural institutions in War- saw. The first edition was created in cooperation with the Dzielna Foundation.

The presentation of the exhibition "Urszula Broll. Atman means breath" con- tinued in Galeria Bielska BWA in Bielsko-Biała and in Galerie Vytvarneho Umeni in Ostrava. The exhibition in the Czech Republic was accompanied by the publication of a catalog in Czechia.

We opened the exhibition "The Rite of Spring" in Cricoteka, Krakow. It was part of the dance presentation program "Rollercoaster. Experience Collectors". The video installations curated by Paweł Łyskaw and Eryk Makohon was presented again, 20 years after its debut at Zachęta — National Gallery of Art.

The exhibition "Looking for Jesus. Library" was held at the Zachęta – National Gallery of Art. Originally conceived as a film documentary with a fairly compact narrative structure, Katarzyna Kozyra's project took the form of a film-library, which consists of a series of portraits of people associated with the ecumene of the "Jerusalem Syndrome". All available online at looking-for-jesus.org
FRIENDS, 2022/2023 Collection:
For the 2022/2023 collection of the FRIENDS project of the Katarzyna Kozyra Foundation 14 female artists from Eastern Germany (former GDR) have donated 13 of their works to be produced in limited editions of 20 copies, printed with unique print size (see catalog for details) on 300 x 400mm Hahnemühle paper, numbered and signed in pencil in 14 sets in Arabic numbers, to be given together as a whole series, and 6 copies each in Roman numerals, which can be selected individually. 
We sincerely thank the participating artists for their contributions which exemplify comradeship and sisterhood among women from our region which the foundation wishes to manifest and embody with every following undertaking.
FRIENDS, CATALOG 2022/2023:
FRIENDS, 2021 Collection:
For the 2021 collection of the FRIENDS project of the Katarzyna Kozyra Foundation 15 female artists from Poland, Belarus and Ukraine have donated their works to be produced in limited editions of 20 copies, printed in approx. A4 (210 x 297mm) on 300 x 400mm Hahnemühle paper, numbered and signed in pencil in 14 sets in Arabic numbers, to be given together as a whole series, and 6 copies each in Roman numerals, which can be selected individually. 
The collection showcases the work, of some of the region's leading female artists who have contributed and continue to contribute to shaping contemporary art, offering unique perspectives on themes of war, femininity, identity, ecology, as well as aesthetics itself.
FRIENDS, CATALOG 2021:
FREINDS, 2020 Collection:
For the 2020 collection of the Friends project of the Katarzyna Kozyra Foundation, 15 artists from Poland, Hungary, the Czech Republic, Romania and Slovakia have donated their works to be reproduced in editions of 20 copies, approx. A4 (210 x 297mm) printed on 300 x 400mm Hahnemühle paper, numbered and signed in pencil, 14 in Arabic numbers, to be kept together as a whole series, and 6 in Roman numerals, which can be given individually. It is a series of fantastic works made with women and for women. We thank the artists, keeping in mind that womanhood also means solidarity and quality.
FRIENDS, CATALOG 2020:
FRIENDS, CATALOG 2019:
Individual works from FRIENDS, 2019 collection still available:
Objects [Helmets], 1991: 7 pieces
Karaski in Bedclothes, 1992-2018: 3 pieces
Pyramid of Animals, 1993
Krzysztof Czerwiński II, 1995 (diptych): 6 pieces
Olympia, 1996
Bathhouse, 1997: 4 pieces
Men's Bathhouse, 1999 (quadriptych): 5 pieces
The Rite of Spring, 1999-2002 (6 works): 7 pieces
Women are waiting, 1994-1998: 9 pieces
Punishment and Crime, 2002: 8 pieces
Dance Lesson, 2001: 8 pieces
Lords of the Dance, 2002: 7 pieces
Faces, 2006: 5 pieces
Diva. Reincarnation, 2005: 6 pieces
Cheerleader, 2006
Summertale, 2008: 8 pieces
Untitled, 2018
Looking for Jesus, 2018: 5 pieces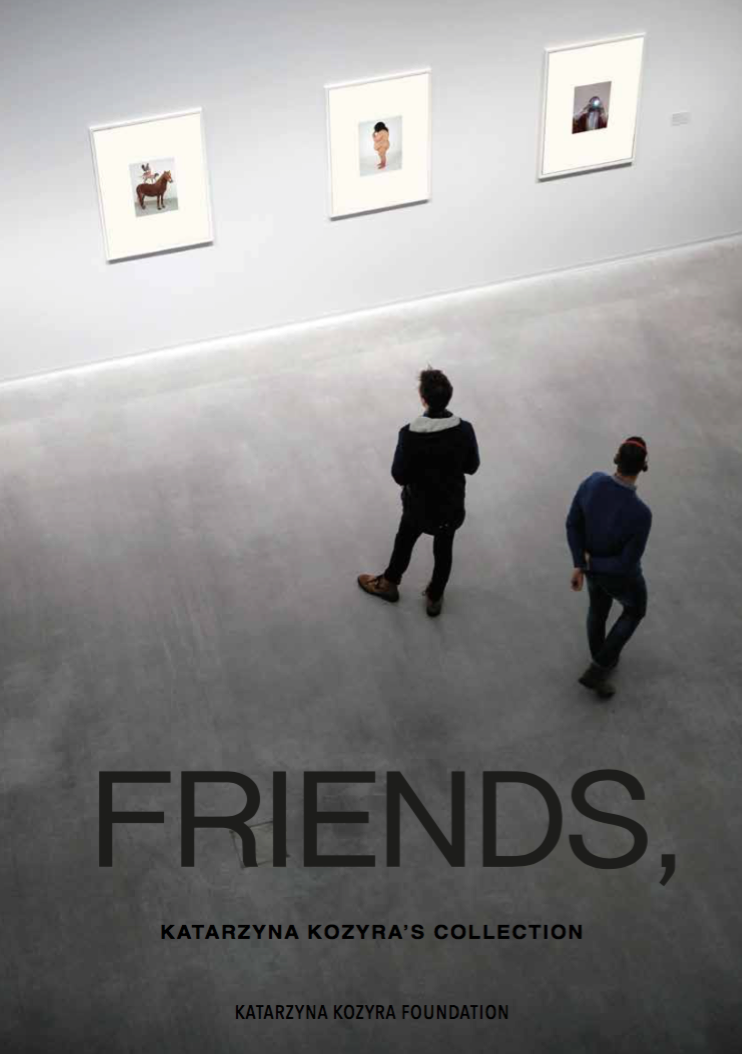 CONTACT:
Fundacja Katarzyny Kozyry
ul. Bukowa 12
02-708 Warszawa
ING Bank Śląski:
[transfer to PLN account] PL 77 1050 1025 1000 0090 9627 8172
[transfer to EUR account] PL 20 1050 1025 1000 0090 8001 1522
Please title the transfer: Katarzyna Kozyra Foundation Friends support program
ING Bank Śląski S.A.
ul. Sokolska 34 40-086 Katowice