Urszula Broll. Atman Means Breath
The first complete retrospective catalogue of Urszula Broll's work, published by the Katarzyna Kozyra Foundation. This publication is dedicated to the story of Urszula Broll (1930–2020) one of the few women who made an impact on the post-war artistic avant-garde in Poland and the so-called Katowice underground, whose long life and extraordinary creative output are unjustly forgotten now.  The catalogue accompanies the Atman Means Breath exhibition at the Museum of Sculpture at Królikarnia Palace, division of the National Museum in Warsaw (23/06/2020 – 27/09/2020). 
The Katarzyna Kozyra Foundation  supports women's activity in art and culture through its "Discovering and Rediscovering Female Artists" programme. The research and development of the complete catalog of nearly 150 of the artist's works, "Urszula Broll. Atman Means Breath" was made possible thanks to support of the Visual Arts 2019 program of the Ministry of Culture and National Heritage of Poland in cooperation with the Historical Museum of Katowice, the Silesian Museum, Katowice and the Karkonoskie Museum in Jelenia Góra.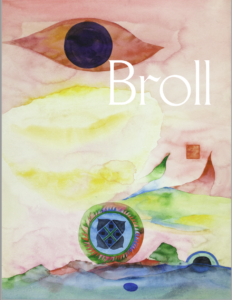 Click to download the catalogue
Texts by: 
Justyna Balisz-Schmelz
Janina Hobgarska
Mira Marcinów
Ewelina Krzeszowska
Katarzyna Kucharska
Katarzyna Sikora
Design & technical editing by Kaja Gliwa
Urszula Broll (1930-2020) was a graduate of the Katowice branch of the Cracow Academy of Fine Arts. She was a co-founder of the ST-53 group, strongly associated with the Polish Neo-avantgarde and the Krzywe Koło Gallery in Warsaw. In the 1950s she was inspired by the avant-garde work of Władysław Strzemiński and Piet Mondrian, her later work was influenced by the Buddhist and Zen philosphies. In 1967 she founded the Oneiron group together with Andrzej Urbanowicz, Henryk Wańko, Antoni Halor and Zygmunt Stuchlik. From 1983 she lived in a Buddhist colony in Przesieka near Jelenia Góra, Poland. Urszula Broll passed away in February 2020 when preparations for this exhibition were underway. On the 17th of March she would have turned 90.